The human resource outsourcing market size is predicted to grow by USD 10.90 billion between 2021 to 2026. Industry experts explain this trend by focusing on the accelerated digitization of human resource administration and outsourcing, which further drive the growth of the market. Most companies have to invest in database management systems and advanced online platforms to provide quality services for the customers as well as manage the expectations of their workers. Big data analytics and AI have been monumental in transforming the management processes in the industrial sector. The problems of skill gaps and workforce gaps can now be solved by utilizing HR staffing solutions provided by companies that have advanced technology and databases containing a large pool of qualified candidates.

HR staffing and employee involvement

Industry researchers have increasingly focused on job involvement since it contributes to the outcomes and performance of the organization. Achieving a competitive advantage can be difficult if HR staffing processes are not adequately carried out. According to research in 2019, employees who were not involved with the company can cost $300 billion because of low productivity. In addition to this, organizations need to reduce costs and increase profits to stay afloat. Considering the advancement of technology and the increasingly uncertain environment in the business sector, businesses have to ensure that the workforce is fully equipped to handle their responsibilities. Given the higher attrition rates, human resources staffing is one of the most crucial functions that need to be undertaken with a huge degree of effectiveness. Attracting qualified employees who are capable of doing the job can be difficult if you do not understand how to characterize your needs and use this to judge your candidates.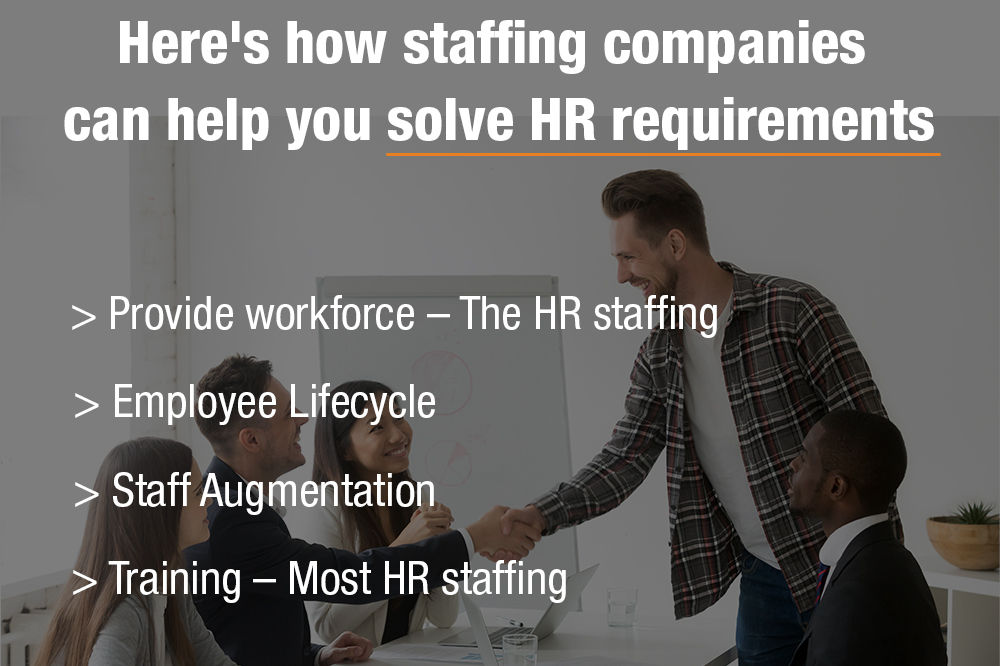 Some of the best staffing companies in India can support you with many roles and responsibilities that might take up unnecessary time and energy.
Provide workforce – The HR staffing company in India can provide you with general and industrial staffing services. The staffing company provides specialized staff who are equipped to handle certain responsibilities that are in sync with their skills. If there is a dire requirement for staffing, staffing agencies or companies are able to dive into a large pool of candidates at their disposal and select the best-suited options concerning your company. The services fulfill all your temporary workforce needs and provide visibility of the candidate's performance to the clients.

Employee Lifecycle – Employee life-cycle extends from the employee's entry into the company till their exit. Within this timeline, there are several responsibilities, including payroll, incentives, formalities, and paperwork. For temporary staff or seasonal staffing, this can be an unnecessary responsibility of the HR department. The best staffing companies in India take care of these needs on behalf of the client's HR department. They provide full documentation and carry out payroll and statutory compliance concerning all the temporary staff who are working for different clients.

Staff Augmentation – As we all know that the growth of the outsourcing market means that more and more companies are becoming flexible when it comes to workforce needs. Choosing a candidate temporarily can be more cost-effective rather than hiring a new employee. Working with an external outsourcing company can provide staff augmentation, which is a flexible outsourcing strategy. You can get a qualified employee for a specific amount of time according to your budget. This employee only works on projects on a short-term or even a long-term basis. Once the project is over, the employee exits the company. The most important benefit of staff augmentation is that you can dive into a large pool of qualified and specialist candidates who have experience and expertise in the relevant fields.

Training – Most HR staffing companies also provide training to employees in order to equip them to deal with current challenges. Companies have their technical team and a pool of experts who can train and manage the manpower to increase employability. These companies also provide training courses to many industrial enterprises that need to increase teamwork and accountability in their workforce environment.
Conclusion

HR staffing can be a difficult task if you do not have the means and all the knowledge how to attract the right candidate for the job. If you have a tight budget, it might be difficult for you to employ a permanent employee. In this case, external staffing agencies that provide temporary staff to solve your short-term problems can be utilized to ensure competitive advantage and uninterrupted workflow.